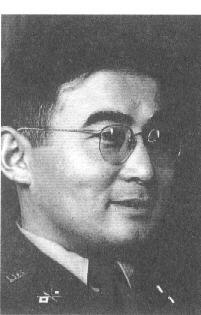 Benjamin T. Obata, Tokyo, 1946
A native of California born in 1918, Obata received his bachelor's degree in accounting from the University of California, Berkeley, in 1940. Because work was hard to find for minorities, he continued at the university enrolling in graduate courses in accounting. Finding employment as an auditor for the State of California, he worked there until his dismissal on December 7, 1941. In 1942, with his family he was sent to the Gila (River) Relocation Center in Arizona, and in November of the same year he volunteered for the Military Intelligence Service language School at Camp Savage. After completion of language and infantry training, he was assigned to the Allied Translator and Interpreter Section, Brisbane, Australia. In August 1945 he received a direct field commission as 2nd lieutenant.
Assigned to ATIS headquarters, Tokyo, in October, 1945, he was detached temporarily for service with other units such as the United States Strategic Bombing Survey, the 71st Signal Service Battalion, and the GHQ Signal Section. In 1947, Obata was assigned to the 441st Counter Intelligence Corps Detachment in Tokyo, and he was to serve in various CIC capacities for the remainder of his career. In July 1950, following the outbreak of the Korean War; he was reassigned to the 308th CIC Detachment, Headquarters, Eighth Army, Korea, where he served for one year, after which he rejoined his former detachment in Tokyo.
Obata was rotated back to the states in October 1952, first with the Fifth Army CIC Detachment in Chicago, and then to take a 1-year CIC Advanced Officers Course at Fort Holabird, Maryland. Upon completing the course in 1954, he was assigned to the faculty of the Army Intelligence School, Counter Intelligence Division, at Holabird. After a 2-year stint, he was assigned to the 526th CIC Detachment in Okinawa from 1956 to 1959, and then was returned to join the faculty at Holabird. He retired from active duty in 1963 as a lieutenant colonel, but was immediately employed by Army Intelligence as a Department of Army civilian. He spent the following decade with various Army Intelligence units in the U.S., Japan, and Europe, with both counter intelligence and positive intelligence assignments, retiring for good in 1983.
Active in the Japanese American Citizens League, Washington, D.C. chapter; Obata also served as the first treasurer of the Japanese American Veterans Association when it was organized in 1992. He and Joanne Nagata were married in 1946. They have two children. When not involved with civic responsibilities, golf keeps him busy. [Ed. note: Ben Obata passed away in 1998]