November 1, 2006
OSS-DETACHMENT 101: Nisei Guerrilla Fighters of World War II
"You are being recruited for a special dangerous mission in the Far East…. A mission more hazardous than combat, so hazardous that it may be "a one way street." Do you still want to volunteer?" This dialogue took place sometime in July 1943 at the headquarters of the 442nd Regimental Combat Team at Camp Shelby, Mississippi. The speaker was Dr. Daniel Buchanan of the Office of Strategic Services (the OSS) addressing over 100 soldiers of the 442nd who had responded to his recruitment call. In response to Dr. Buchanan's ominous warning, not one of his listeners left the room.
Thereafter each volunteer underwent individual interview and screening with Dr. Buchanan covering their personal background, Japanese language ability and ending with the final inquiry of their continued willingness to volunteer for this hazardous mission.
Ultimately, 23 Nisei were selected for this special OSS mission and they were quietly spirited out of Camp Shelby on December 29, 1943 to undergo nine months of rigorous special training. First they spent three months at Camp McDowell, Illinois for communications training in Morse Code, radio theory and repair. Then they were subjected to a five months' crash course in military Japanese and the customs and geography of Japan at the Military Intelligence School at Camp Savage, Minnesota. Finally, they were sent to Catalina Island, California for intensive physical conditioning, hand-to-hand combat, beach landing and infiltration and techniques of demolition and explosives.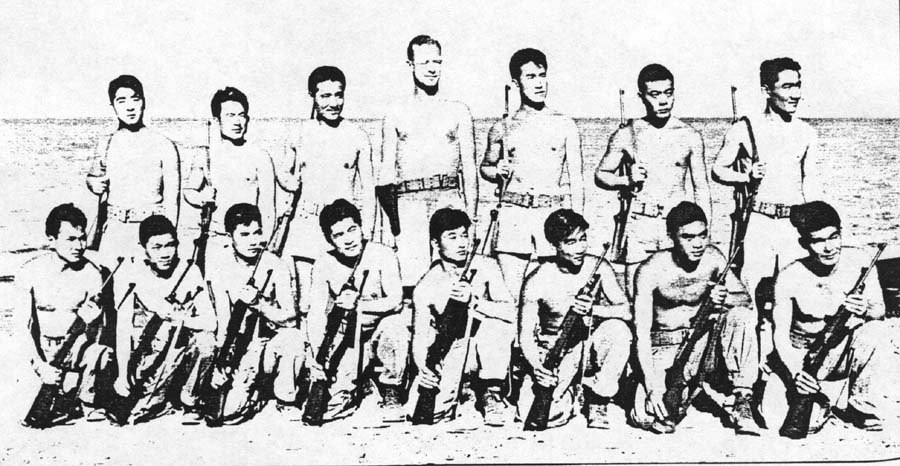 Nisei MIS attached to OSS Detachment 101 go through Guerrilla, Ranger, survival training on Catalina Island, Calif. Sep 1944.
Front Row, L-R: Calvin Tottori, Sho Kurahashi, Fumio Kido, Wilbert Kishinami, Tad Nagaki (mainland), Takao Tanabe (Mainland), Dick Hamada and Tom Baba. Back row, L-R: Susumu Kazuhaya (mainland), LT Ralph Yempuku, LT Richard Betsui, MAJ Crowe, LT Junichi Buto, LT Chiyoki Ikeda, and George Kobayashi (mainland)
By this time the group was reduced by nine men through training and security to a squad of four officers and ten enlisted men. They were lst Lieutenants Richard Betsui, Junichi Buto, Chiyoki Ikeda and Ralph Yempuku, and Tech-4 Thomas Baba, Cpl. Dick Hamada, S/Sgt. Susumu Kazahaya, Pvt. Fumio Kido, Pvt. Wilbert Kishinami, S/Sgt. George Kobayashi, Tech-5 Shoichi Kurahashi, Pvt. Tadashi Nagaki, Pvt. Takao Tanabe, and Cpl. Calvin Tottori. All except Kazahaya, Kobayashi, Nagaki and Tanabe were from Hawaii. They were each assigned coded nicknames to protect their identity and to assure their personal safety. Their entire training activity was conducted in secret and separate from other military units, and they travelled cross-country in separate Pullman cars and flew overseas as sole passengers on the airplanes. Theirs was a highly secret mission.
This special OSS group was flown out of Miami Beach on November 1, 1944 en route to
the final destination of New Delhi, India, making six landing stops along the way. At New Delhi the group was split into three separate assignments. "Lt. Chick" (Ikeda) led a
5-man team of "Sus" (Kazahaya), "George" (Kobayashi), "Tad" (Nagaki) and "Tak" (Tanabe) to Detachment 202 in Kunming, China. "Lt. Dick"(Betsui) and "Wil" (Kishinami) were assigned to Detachment 101 Headquarters in New Delhi. The Detachment 101 (Burma) contingent comprised of "Lt. Jun" (Buto), "Lt. Tsu" (Yempuku), "Tom" (Baba), "Man" (Hamada), "Kid" (Kido), "Sho" (Kurahashi) and "Cal" (Tottori) who were sent for more intensive jungle survival, cryptography and Burmese language training at Assam, India and Taro, Burma before being flown into the combat zone of Myitkyina, Burma In December 1944.
The OSS, forerunner of the modern Central Intelligence Agency (CIA), was first created in July 1941 as the Coordinator of Information with a broad mission to carry on espionage, counterespionage and irregular war operations for national security purposes.
Placed under the Joint Chiefs of Staff and renamed the OSS in June 1942, the OSS proposed and prepared for intelligence and guerrilla operations in the Philippines and Burma, which was flatly rejected by General McArthur. General Stillwell, commander of CBI theater operations would accept the OSS Detachment 101 only after Major Carl Eifler. recruited from his position as commander of the Sand Island Detention Camp in Hawaii, was appointed to command Detachment 101 and who was given a 90 day deadline to commence intelligence and guerrilla warfare against the Japanese army in Burma. The OSS under the code name Detachment 101 was activated in April 1942 to become the first and only American unit organized to conduct guerrilla warfare, espionage and sabotage behind enemy lines in the China-Burma Theater in World War II.
The initial results of Detachment 101's Burma operations were meager and unimpressive, handicapped by inadequate small numbers, operating in the vast terrain of impenetrable jungles and jagged mountains in intense tropical heat and drenching monsoon rains and ravaged by malaria, cholera, typhus and dysentery. But dramatic turn of success came with the recruitment and addition of over 10,000 Kachin rangers, native tribesmen of the North Burma hills called "Jing Hpaws" who turned out to be superb, ferocious, relentless junglefighters. The Kachins were victims of the ravages and atrocities committed by the Japanese Army and hated the Japanese with a passion, while liking the Americans due to their early pre-war exposure to kindly American Christian missionaries. Completely familiar in their jungle environs, the Kachins could stealthily stalk and kill numbers of enemy without being seen or heard and were deathly feared and dreaded by the Japanese soldiers. There is a legendary story of General Stilwell's skepticism of the announced Kachin kill rates against the Japanese prompting his inquiry to a Kachin Ranger leader "How can you be so sure of your numbers?" In response, the Kachin threw down a bundle of dried human ears before a startled Stilwell saying "Just count these ears and divide by two!" As soon as he heard of this Kachin custom, OSS Commander Col.
Peers ordered all Kachin battalions to cease this ear-cutting practice immediately.
Detachment 101 was organized into six battalions of Kachin Rangers headed by a few OSS American officers, Burmese and native interpreters and one or two Nisei linguists. Its basic mission was to attack, decimate and drive the Japanese Army out of Burma, capture the key Myitkyina airport and retake the vital Burma Road into China.
By parachuting behind Japanese lines as well as by harassing perimeter attacks, Detachment 101 guerrillas were to ultimately kill 5,447 Japanese enemy leaving another 10,000 wounded or missing. They blew up bridges, rail lines and supply dumps, cut off supply and communication lines while its patrols gathered and sent back intelligence on the numbers and locations of enemy units for the U.S. Air Force planes to bomb and strafe. Kachin patrols of the OSS tracked down and rescued 425 American and British airmen whose planes crashed in the Himalayan mountains. The British Wingate Chindits and the U.S. Merrill's Marauders ground forces owe much of their successes to being guided over jungle and mountain trails, and to the intelligence gathered and enemy attrition and harassment of the enemy rendered by Detachment 101. The individual exploits and service of the Nisei guerrillas with the Detachment 101 will now be told.
Cal (Tottori) was assigned two major missions in North Burma, the first being a two-month intelligence gathering mission consisting of only Lt. "Greek" Coussoule and himself, an Indian interpreter/radioman and two Burmese agents, operating behind Japanese lines north of Mandalay. They reported back to headquarters by radio all Japanese locations and troop movements they observed along the Irrawady River area, always avoiding any contact or exposure to the enemy although they were fully armed and prepared for conflict but as constantly instructed "always saving the last bullet for ourselves to avoid capture," because all OSS Nisei knew that to be captured alive by the Japanese would guarantee hideous, tortuous fate worst than death! From February to May, 1945, Cal was assigned to an attack team led by the Greek and made up of 50 native riflemen to attack enemy positions south of Mogok. While crossing a series of mountains Cal was laid low with "jungle fever" and had to be carried forward on the rocking and rolling back of an elephant. This mission suffered minimal casualties while inflicting undetermined losses on the enemy and the rare capture of three prisoners. Cal recalls building of an airstrip in a dried rice paddy so that Lt. Jun (Buto) could fly in a light plane to take back the prisoners to headquarters. Cal had little occasion to do any prisoner interrogation since Japanese POWs were quickly decapitated by the ferocious Kachins at the point of encounter before they could be brought back for intelligence gathering interrogation.
Sho (Kurahashi) first worked at Morale Operations at OSS Headquarters helping to prepare propaganda leaflets but soon he was parachuted into the Lashio region in North East Burma near the China border to join the 5th Battalion Kachin Rangers. The 5th Battalion was made up of 350 Kachin Rangers led by 5 American OSS with the mission to gather intelligence while engaging in direct combat with the Japanese Army. By March 1945, the Lashio Mission was completed with the capture of Lashio and the Japanese driven southward toward the Thai border. On March 17, 1945, Sho was flown in by light plane to join Captain Ted Barnes OSS unit fighting Japanese troops in the Laikha and Loilem campaign, upon the successful completion of which OSS Detachment 101 was awarded a Distinguished Unit Citation, portions of which read:
"Office of Strategic Services, Service Unit Detachment #101, is hereby cited for
outstanding performance of duty from 8 May 45 to 15 June 45 in capturing the stratetgic enemy strongpoints of Lawksawk, Pangtara and Loilem in the central Shan States, Burma. This unit, composed of approximately 300 American officers and men, volunteered to clear the enemy from an area of 10,000 square miles. Its subsequent activities deprived the Japanese 15th Army of the only East escape route and secured the Stilwell Road against enemy counter-attacks……….
The courage and fighting spirit displayed by the officers and men of Office of Strategc Services Special United Detachment #101, in this successful offensive action against overwhelming enemy strength, reflect the highest traditions of the Armed Forces of the United States."
Meanwhile, Lt. Jun (Buto) and Kid (Kido) were assigned as the only Nisei linguists to OSS Headquarters in Bhamo, Burma where they served as the language link between enemy intelligence and OSS leaders, translating captured documents, intercepting enemy communications, preparing psychological warfare (propaganda leaflets) and interrogating what few enemy POWs flown in from combat zones that could be captured alive. Around May 1945, the signal intelligence unit of the U.S. Army 10th Air Force to which your writer (Ted Tsukiyama) was assigned moved their listening post to Bhamo, Burma, which gave rise to a surprise and joyous reunion between your writer with Jun Buto and Ralph Yempuku way out in the remote wilds of Burma (see accompanying photo).
In November 1944, Man (Hamada) was flown behind enemy lines in the northeast region of Burma to join the 2nd Battalion made up of 300 Kachin Rangers led by Lt. Mudrinich and 4 American OSS. For three months of operation in enemy territory the Second Battalion gathered and radioed back military intelligence and conducted guerrilla warfare ambushing the enemy at every opportunity and cutting off their escape to Thailand.. The Kachin Rangers killed the enemy soldiers with relish and kept count of the number of enemy dead by the Kachin custom of saving the severed ears off of each victim as trophies. After recovering from hospitalization for dysentery and malaria, Man Hamada was parachuted behind enemy lines in the Lashio region to join another OSS unit engaged in guerrilla attacks against the enemy and to gather intelligence which Man as an expert radio operator would radio back to Headquarters. They survived long weeks out in the field surrounded by the enemy only by virtue of vital rations, medical supplies, weapons and ammunition being air-dropped by C-47 cargo planes to secretly designated drop zones. Due to the Kachin Ranger's jungle cunning and fierce hatred of the Japanese, the enemy fatality toll was high. Man survived all enemy counterattacks but succumbed again to debilitating dysentery and malarial attacks and was flown back for hospitalization in Bhamo.
In December 1944, Lt. Tsu (Yempuku) was flown in to join the 1st Battalion
Kachin Rangers to engage in the battle for Lashio in Northeaster Burma where Captain Joe Lazasky assigned him to the command of Company C. Captain Lazasky valued Yempuku highly as being indispensable to his operations as the only one who could speak, read and write Japanese and gather vital intelligence through captured documents and interrogation of Japanese POWs. Knowing the Kachins hatred for Japanese, Captain Lazasky feared for Yempuku's safety, so he immediately assembled the whole battalion of 200 Kachin guerrillas and paraded Yempuku in front of his troops introducing
Lt. Tsu as "a big American DUA" and ordering them to study his face and features closely so as to not mistake him and shoot him as an enemy Jap. (See accompanying photo showing Lt. Tsu, Kachin interpreter and Captain Lazasky addressing the assembled Kachin Ranger Battalion). But having hardly any captured documents to translate and few captured POWs to interrogate, Lt. Tsu was engaged primarily in leading his band of Kachins over jungle trails in direct ground attacks supported by mortar fire, perimeter ambushes and harassing of enemy troops and supply lines until the Japanese were driven out of Lashio. He gathered effective intelligence on enemy activity and locations from the native Shan and Palaung villagers using gold coins and opium for payment. The Japanese in turn became aware that the Kachin attackers were led by a Nisei and put a $20,000 price on Yempuku's head!
By June 1945 the Japanese army was driven out of Burma across the Thai border
and the OSS Detachment 101 was deactivated in July 1945. The Detachment 101 Nisei were ordered to join the Detachment 202 in China, so Buto, Yempuku, Hamada and Kido joined an American jeep/truck convoy traversing the perilous Burma Road over the Himalaya mountains to Kunming, China. On the way the jeep driven by Hamada and Kido was smashed by a huge mudslide and almost swept over a cliff to an almost certain death. The convoy was also stalked by a huge man-eating tiger for several nights so that men were instructed not to sleep in open vehicles or on the ground.
After joining Detachment 202 in Kunming, the Nisei were sent to parachute school and soon qualified for parachute wings. Meanwhile, Man (Hamada) was ordered to join a
6-man parachute mission to destroy a vital bridge in Indo-China (now Viet Nam) in a heavily guarded region, the escape route from which required crossing a monsoon flooded river and crossing through Chinese bandit territory. Fortunately on the day of the scheduled jump America dropped the atomic bomb on Japan and this "one-way street"suicidal jump mission was scratched. Almost immediately thereafter the OSS was ordered to conduct the highest priority mission of dropping rescue teams into ten Japanese POW prison camps throughout China to save surviving American and allied POWs before they were killed by the defeated Japanese. These were high risk, dangerous missions because just a few American parachuters would be dropped into enemy territory
Defended by vastly outnumbered troops whom may have not yet heard of Japan's defeat and surrender. The six Nisei OSS who participated in Mercy Mission jumps have exciting stories to share.
On September 2, 1945, Sho (Kurahashi) parachuted into Hankow, China with the
10-man Sea Gull Operation team to investigate reported inhumane treatment of Allied POWs by the Japanese. It was confirmed that the Japanese had captured 3 American pilots who had crash-landed in Hankow and had them dragged through the streets and then burned them alive in a crematory oven. The 15 Japanese responsible for this atrocity were apprehended and turned over to the war crimes tribunal for prosecution. On August 17, 1945, Man (Hamada) was part of the 7-man team for Operation Magpie that jumped into the Peking prison camp bringing food, blankets, medical supplies and cigarettes to the surviving prisoners. After landing and while gathering up the supply loads, they were surrounded by hostile Japanese troops who refused to believe the war was over. Only after being taken to Japanese headquarters and meeting General Takahashi was the tension relieved and the Magpie team permitted to meet and release 624 overjoyed American, British and Australian POWs, including four of the surviving Doolittle Tokyo Raiders. Cal (Tottori) dropped into Taiwan with the 7-man OSS rescue team without any hostile opposition to secure the release of hundreds of Allied prisoners from the Taipei prison camp.
Members of the 6-man Operation Cardinal rescue team including Sgt. Kid(Kido) that parachuted into Mukden, Manchuria on August 165, 1945 received the most harrowingly hostile reception of any OSS mercy mission since Emperor Hirohito's surrender message was broadcast only the day before. Not having heard of Japan's surrender, Japanese troops seized the rescue team, slapped and manhandled them, stripped them of their arms and clothing and made them kneel and face the wall as if about to execute them. Sgt. Kido's assertions that Japan had surrendered and explanation of the mercy mission were met with sneers, but the brutal manhandling of the Americans thereafter ceased. The team was then blindfolded and taken to headquarters where word of the war's end was received. While the Japanese continued to stall granting access to the Mukden prison camp. Sgt. Kido was rigorously interrogated as to how and why he as a Japanese would be part of the American forces. By August 20, 1945, the 1,700 Allied prisoners of the Mukden prison were released just before the arrival of the Russian troops. Among the rescued prisoners was the hero of Bataan, General Jonathan Wainwright. Sgt. Kido was to receive a letter of appreciation signed by 150 Allied POWs released from the Mukden prison. Lt. Tsu (Yempuku) volunteered to be part of the 8-man Operation Pigeon Mercy Mission led by Major John Singlaub which dropped into Hainan Island. No sooner had they landed, they were menacingly confronted by an advancing horde of Chinese and armed Japanese soldiers on the other side. Showing outward calm, Yempuku translated Major Singlaub's orders for the Japanese to protect them from the Chinese mob which the confused Japanese lieutenant hesitatingly complied with. The team then took the gathered supplies and headed for the POW camp where they found 356 emaciated Dutch and Australian POWs who had been tortured, beaten and starved to near death. The prisoners had survived by trapping and eating rats and other rodents. Col. Scott who had commanded the prisoners handed Major Singlaub his secret diary which recorded all of the atrocities inflicted on the prisoners by the prison command which was later used to prosecute the offenders for war crimes.
On August 17, 1945, Tad (Nagaki) was part of a 6-man Mission Duck team that parachuted into Weihsien, China to liberate 1,400 Allied POWs and internees from the Weihsien prison camp. Among them was 12-year old Mary Taylor who together with her brother and sister had been separated from their American missionary parents and interned at the Weihsien camp for over 5 years. Mary Taylor remembers their day of liberation well:
"I was a wide-eyed 12-year old again listening to the drone of the airplane far above the concentration camp. Racing to the window, I watched it sweep lower, slowly lower. It was a giant plane, emblazoned with an American star. Weihseien went mad. I raced for the entry gates and was swept off my feet by the pandmonium. Grown men ripped off their shirts and waved them at the sky to flag down the low-flying plane. Prisoners ran in circles and punched the skies with their firsts. They wept, cursed, hugged, danced as the B-24 circled back, its belly open. Americans were spilling from the skies….the Americans had come!
I remembered out loud the crowds of child prisoners. Oh yes, we trailed those gorgeous liberators around, begged for their insignia, begged for buttons, and begged them to sing the songs of America. They were sun-bronzed American gods with meat on their bones. My 12-year old heart turned somersaults over every one of them. We followed them day and night like children following the Pied Piper…We made them gods"
Mary Taylor never forgot her heroes. 52 years later as Mary Previte and a New Jersey State Assemblywoman, she tracked down her liberators including Tad Nagaki and learned the story of this Nisei's service in the OSS and to country. Today, Mary Previte is one of the staunchest supporters and admirers of the Japanese Americans in America and for their patriotic service to America during World War II.
Every one of the six OSS Nisei who volunteered and participated in those Mercy Mission rescues were awarded the Soldier's Medal and three of them were specially honored with Certificates of Award by the Republic of China. These honors were truly merited and deserving for those who courageously parachuted into enemy territory to face hostile troops of a defeated army and were a fitting culmination to their loyal and dedicated OSS service and mission, which turned out to be truly "more hazardous than combat" and likely "a one-way street!" And they convincingly demonstrated that Americans of Japanese Ancestry were more than willing to fight an enemy of their own race. On this coming December 29, 2006 which will be the 63rd anniversary of their departure from Camp Shelby, Mississippi, we honor and salute the Nisei OSS Detachment 101, "America's only Nisei guerrillas who fought behind Japanese enemy lines during World War II!"
--Ted Tsukiyama