JAPANESE AMERICAN VETERANS ASSOCIATION

IMMEDIATE RELEASE: Vol. II
March 13, 2006 No. 6

CONTACT: Terry Shima (301-987-6746); ttshima@worldnet.att.net)

FOR PHOTO: Access JAVA website, www.javadc.org. On left side scroll to Press Release and click on heading below. Picture embedded in article.
- - - - - - - - - - - - - - - - - - - - - - - - - - - - - - - - - - - - - - - - - - - - - - - - - - - - -
RARE EXPERIENCE FOR FIVE NISEI IN WW II. DIXIE MISSION BROUGHT NISEI IN HISTORIC ASSOCIATION WITH RANKING CHINESE COMMUNIST LEADERS IN CAVES OF YAN'AN, CHINA.

By Japanese American Veterans Association

Washington, D.C. This is a story of five Americans of Japanese descent, Nisei, who were members of the US Army Observer Group, nicknamed the Dixie Mission, which would turn out to be a rare historical event in World War II. These Nisei were assigned to the Chinese Communist headquarters in Yan'an, Shaanxi Province, China, where they rubbed shoulders with Communist leaders such as Mao Zedong and Zhou Enlai. This was the first official US government contact with the Chinese Communists.

On July 22, 1944, eighteen American military, diplomatic and intelligence personnel arrived by plane in Yan'an, where they were met planeside by Zhou, the Number 2 leader in the Communist hierarchy, and escorted to their quarters, which were caves dug in the steep hillsides. Within this contingent were Sho Nomura and George Itsuo Nakamura. They would be followed in the Fall of 1944 by Koji Ariyoshi, a psychological warfare (psywar) specialist, and in August 1945, soon after the Pacific War ended, by Jack Togo Ishii and Toshi Uesato. The Dixie Mission was withdrawn on July 24, 1946.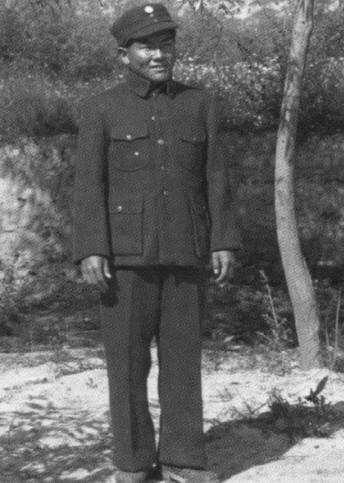 George Itsuo Nakamura


In 1934, in order to avoid the threat of annihilation by the Nationalist Government forces, the Chinese Communists decided on a strategic retreat, to include an incredible 5,000 mile trek from southeastern China marching west and then north to an arid, desolate mountainous region in northwest China called Yan'an, a place they judged was defensible. It would take them one year on foot through difficult terrain, fighting off armies of the government and warlords and enduring fatigue and disease. This "Long March," which started with nearly 100,000 men and women and ended with 20,000, became the Chinese Communist symbol for "strength and resilience".

Like the local folks of Yan'an, whose town was bombed by the Japanese, the Communists dug short tunnels on the steep hillsides. Each tunnel resembled a cave and was about 15 feet in length with grey brick flooring; the front had a door and window in wooden frame. Thin white paper substituted for glass panes to let sunlight in. Charcoal braziers were used in the winter for heating. There were rows upon rows of these tunnels.

Colonel David D. Barrett, Commander of the Mission, in his book, Dixie Mission, said the US Government's objective was to get the Communists and the governing Nationalists under Generalissimo Chiang Kai-Shek to form a coalition to fight the Japanese. The ancillary goals were to collect military intelligence on the Japanese forces, obtain assistance to rescue downed airmen in enemy territory, arrange for American POW's escape from Japanese POW camps, obtain meteorological information vitally needed for Allied air operations, and collect information on Communist personalities and insights on its strength. The Communists welcomed the contact because they perceived they had lots to gain: political recognition from a major world power, communications equipment for real time contact between Yan'an and its expanding territories, arms, ammunition and cash.

Koji Ariyoshi told his son Roger that the Communists shared their caves with the Americans, adding a rough table, plain wooden chairs, a makeshift bed, a stand for an enameled wash-basin, and a rack for towels. There was no electricity and light was by tallow candles. They also provided standard Chinese cuisine for which Colonel Barrett, who spoke impeccable Chinese as the result of 23 years residence in China, offered to pay but that Zhou declined. Communist leaders frequently took their meals with the Americans at the Group's mess. The Communists also assigned two cadres to serve the Americans: Huang Hua and Ling Qing, who would later become Foreign Minister and Representative to United Nations, respectively. Chinese Communists also provided medical attention.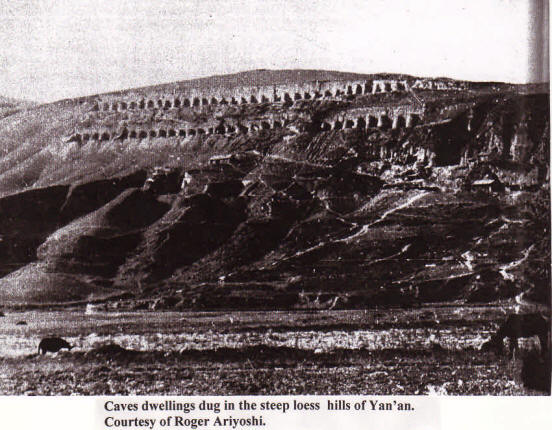 The Communists supported the Group enthusiastically and assigned a counterpart to each American specialist. Zhou and General Ye Jianying were the principal contacts with Colonel Barrett and Mao Zedong was always accessible. The communists also provided entertainment on Saturday evenings at their headquarters with dances, Chinese food and drinks. Barrett, in his book, said Mao was nearly always present and relaxed and would dance with the first woman cadre who asked, "Chairman, would you dance with me?"

US Presidential Envoy Major General Patrick J. Hurley and his successor, General George C. Marshall, who both visited Yan'an, were unsuccessful in getting the Communists and the Nationalists to form a coalition in the war against Japan. As a result, relations at the policy level became cool though the working level relations were substantively effective and cordial.

Nomura's and Nakamura's, and, later Ishii's and Uesato's, assignment was to collect military intelligence through interrogation of Japanese prisoners of war who surrendered to the Chinese Communists. There were about 150 of them assigned as students of the Farmers and Peasants School, where they were under indoctrination to become communists, or members of the Emancipation League, which created propaganda material targeted at Japanese troops in China. The Nisei had unimpeded access to the prisoners, who provided valuable intelligence. They also worked with Susumu Okano, known in Japan as Sanzo Nozaka, head of the Japan Communist Party who escaped from Japan in the early 1930's to the Soviet Union and finally to China. Nozaka was responsible for the POWs. After the war Nozaka returned to Japan to lead the JCP. The Nisei met socially with Mao, Zhou and other communist leaders and found them friendly and accessible.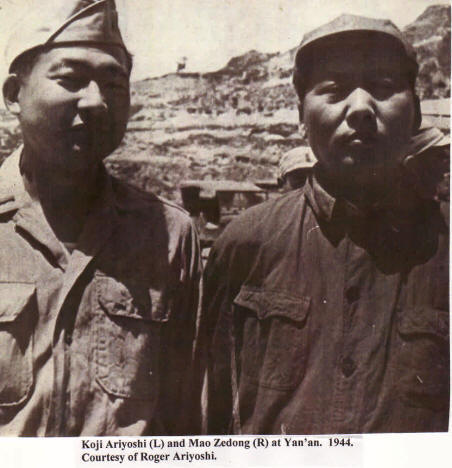 Nakamura did not attend the Mission Christmas party because he was on an urgent rescue mission of a downed US pilot, Lt. John Wood. Nakamura described to his daughter, Aileen, how this mission came about: On November 16, 1944, accompanied by Chinese interpreters and a few Red Army soldiers, Nakamura traveled by horse, mule and on foot to "Shu-mu-lu, Xai Lin, and Liu-chai-wan", as listed in John Colling's book, Spirit of Yenan, to interrogate newly captured Japanese soldiers. [Pinyin spelling not readily available.] On December 12, he received orders to return to Yan'an. However, later that day, he received word that a US pilot had crashed nearby. He was ordered to continue to gather intelligence and at the same time to ensure that Wood would be returned to safety."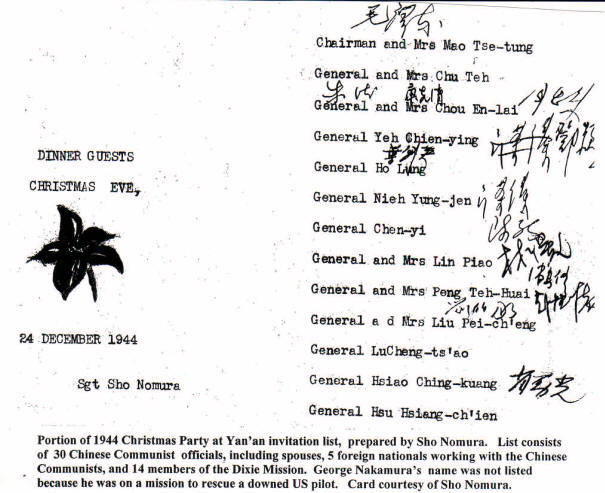 Aileen said "Wood had arrived on a stretcher at the Communist Regional Headquarters on December 21. Nakamura recalls it took much inspection of his US uniform, speaking American slang, and talking about baseball back home for Wood to trust him as an American soldier who could get him to safety. The two awaited transport for days, but when none arrived on Christmas Day, the Chinese cheered up the homesick Americans by preparing a special meal, followed by Christmas carols led by students from Yen Ching University. Finally, on December 29, they received word that no plane was available so they began their journey back to Yan'an the way Nakamura had arrived."

According to Roger Ariyoshi of Honolulu, Hawaii, his father, Koji, said he held extensive meetings with Nozaka at his cave, located about four miles from the Observer Group, to obtain Nozaka's insights on American propaganda leaflets and material that were used against the Japanese troops. Also, Ariyoshi's instructions were to evaluate the effectiveness of Nozaka's propaganda efforts. Ariyoshi won the confidence of Mao, Zhou, Zhu De, Xiong Guangkei and other Communist leaders and met with them informally even after top-level relationship became strained.

Roger said his father told him Major General Albert C. Wedemeyer, Commander of US Forces in the China Theater, summoned him to Chongquing, the wartime capital of China, to discuss, among other things, Chinese Communist leadership and their military capability. Ariyoshi also briefed General Hurley and General Marshall in Yan'an and Chongquing. At the same time, Zhou sought Ariyoshi's help in passing messages to US authorities. Ariyoshi is the only Japanese American who had substantive dealings in China with senior political officials of the US and Chinese Communists.

Ariyoshi visited China in June 1971, when the Honolulu Star Bulletin engaged him as a Special Correspondent. He had a four hour private interview with Zhou. Ariyoshi's articles in January 1972 preceded President Richard Nixon's visit by a month.

During the post war period the Dixie Mission veterans and families made two visits to China, the first was in March 1978 when they visited a number of cities, including Yan'an, where they saw their compound, which has since been converted to a boys' middle school. Nomura and Nakamura were on this tour with their wives. The second visit was in May 1991 that included Nomura and Nakamura and daughter, Aileen. Their host arranged tours to major cities, provided mementos of their wartime association and a lavish banquet hosted by the Vice President of the Republic at the Great Hall in Beijing.

The five Nisei had varied backgrounds and following the War pursued different career paths. All five attended Japanese language schools in their youths. Nakamura (82), a resident of Pearland, Texas, was born in Arroyo Grande, California and was interned with his family at Gila River, Arizona, one of ten such internment camps in desolate locations in the US. He enlisted in November 1942 and was sent to the MIS Language School at Camp Savage, located 17 miles from Minneapolis, Minnesota. Following basic training at Camp Shelby, Nakamura was sent to India and then to Chongquing, where in July 1944 he was assigned to the Dixie Mission. Nakamura celebrated his 21st birthday at Yan'an and still remembers his dance with Mrs. Mao Zedong, who along with other Communists attended the party.

In June 1945, Nakamura, a Bronze Star awardee, received a direct commission to 2nd Lieutenant. He left the Dixie Mission in August 1945 to return to Chongquing. He then served as an interrogator/translator at the Indo China border and subsequently was on Occupation duty in Japan. He resigned his commission in 1949 and attended Columbia University from which he received a Masters in International Relations in 1954. He then became the Rayovac Corporation General Manager for Asia for the next 30 years. He is married and has a son, daughter and two grandchildren

Nomura (87), a resident of Sierra Madre, California volunteered in November 1942 for the MIS Language School at Camp Savage. His first interrogation duty was unusual for Nomura. He recounted: "What a surprise!! I had envisioned that the POWs would be incarcerated in a camp surrounded by barbed wire, sentry towers, security guards and all that. Not so! The so-called POWs had their own compound and their living quarters which were caves. They were free to go to "downtown Yan'an" or wherever they so desired in the vicinity unescorted."

Nomura had his appendix removed in Yan'an by Ma Haide, the Communist physician's Chinese name for George Hatem, whose parents immigrated to the US from Lebanon. Dixie Mission held a Christmas party that was attended by over thirty Communist Party members, including Mao and Zhou, and their wives. Nomura prepared a guest list and had the participants sign their names. The original of this guest list is Nomura's cherished memento of his Dixie Mission duty. Nomura left Yan'an in September 1945, for assignment in Indo-China. The following year he was assigned to Japan, where he served in the Occupation for five years as a translator. During this time, he and a group of Nisei met with Nozaka at a Japanese teahouse. "It was an opportunity for reunion with an old friend," Nomura said. The Nomuras have five children and five grandchildren.

Ariyoshi was born and raised on a coffee farm in Kona, Hawaii. He worked as a laborer at a sugar plantation, a pineapple cannery and on a sugar beet farm in Idaho, as a longshoreman on the docks of Honolulu and San Francisco, and as a journalist. After he obtained a college degree from University of Georgia, he settled in California and then Japan attacked Pearl Harbor. He was incarcerated at the Manzanar Internment Center, California. This background and his view of the hardships endured by his parents, other plantation workers, and the African Americans in America's Deep South caused him to sympathize with the downtrodden.

In December 1942 Ariyoshi enlisted and trained at the MIS Language School at Camp Savage. Following his graduation, he joined the Office of War Information, led a 10-man psywar team to New Delhi, India. In June 1944, he was deployed to Burma, where he was picked to serve on the Dixie Mission. He could not overcome his joy when he arrived at Yan'an, because only five years before he organized collection programs in Hawaii to help the children of Yan'an. Ariyoshi spent 18 months in Yan'an, October 1944 to March 1946. He passed away on October 23, 1976 at age 62. He is survived by a son, Roger, and five granddaughters.

When Uesato, 82, of Waipahu, Oahu, and now a resident of San Jose, California, volunteered for but was not accepted for duty in the 442nd RCT, he volunteered for the MIS. After graduating from the MIS language school at Camp Savage, he was assigned to the Mars Task Force, successor to Merrill's Marauders, in Burma. Like the Marauders, a special forces unit, the Mars Task Force participated in the Northern Burma campaign to reopen the Burma Road, the lifeline to supply war materiel to China. After assignments in Indo China and China, he was sent to Japan for Occupation duty, where he would serve from 1946 - 1947. One day, Uesato visited the Japan Communist Party headquarters in Tokyo for a cordial surprise reunion with Nozaka.

After receiving his BA and MA degrees from the University of Michigan, Uesato sought a career at the US Department of Housing and Urban Development . He is married, has a son, daughter and a grandchild.

Ishii (84 when he passed away on February 1, 2006) was born in Fresno, California. He was interned at the Jerome, Arkansas internment center from where he enlisted in 1943 for the MIS. Ishii learned his Japanese from his mother, a Japanese language teacher, and from the MIS Language School. He held the rank of Master Sergeant. Following his discharge from the Army, Ishii worked in the printing business for 30 years. After his retirement he engaged in distance running, singing, dancing, playing the ukulele and traveling. Ishii had four children, five grand children and three great grand children. 30