Experiences During the Okinawa Campaign by Tom Ige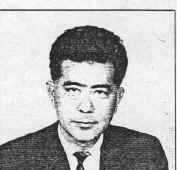 Tom Ige, T/3
I volunteered for the Army in March 1944. At Camp Savage Military Intelligence Service Language School, I underwent nine months of rigorous training in military Japanese. I will share the rest of my MIS experiences through partial extracts from my autobiography, The Boy from Kahaluu.
Noting that U.S. forces would probably invade Okinawa, I suggested to the commandant of the language school that a special team be created in the event Okinawa was invaded. There were some students who had studied in Okinawa before the war and were proficient in both Japanese and the Okinawan dialect. They were also familiar with the geography and manners. I felt this special unit could be very valuable to an American invasion. My suggestion was sent to G-2 headquarters in Washington and given the green light. I received a letter of commendation from the commandant.
I participated in the selection of Jiro Arakaki, Shinyei Gima, Les Higa, S. Higashi, H. Kobashigawa, K. Miyashiro, Kazuo Nakamura, K. Oshiro, S. Sakihara, and myself--all Okinawans. Lieutenant Amioka was chosen to be our officer because he was fluent in Japanese language. He proved to be superb in all respects and had plenty of courage.
At 10th Army Headquarters off Yomitan Air Base on Okinawa, we were placed in a "pool" to be made available to any of the many units. We spent more of the time translating captured documents at headquarters. Other exciting assignments included interviewing Japanese prisoners of war and civilians. The Japanese military had not established any code of behavior when captured by the enemy because they were not supposed to surrender under any circumstances. Once these soldiers became prisoners, they were most cooperative. They had little hesitancy in identifying their units, their officers and positions in the field, and they even helped us in preparing propaganda material to be dropped behind enemy lines.
The ability of our team members to speak the Okinawan dialect proved helpful in interrogations. We were able to separate Japanese soldiers masquerading as Okinawan civilians. Very few Japanese soldiers could understand or speak the dialect.
Since I had gotten to know some Japanese prisoners well, I decided to use their knowledge in exchange for some considerations. There was a prisoner at the Yaka compound who was a graduate of the Tokyo Imperial University, the top university in Japan. This prisoner had been hastily drafted and was disgusted to have some country bumpkin push him around. He gladly cooperated with me, and he translated in an hour or two, documents that would have taken me days. My translation was made easier and more accurate.
During the early phase of the Okinawan campaign, our forces captured a civilian who was the manager of a big sugar refinery. This prisoner turned out to be Seiho Ginoza, who later changed his last name to Matsuoka. I had known him in Hawaii when he worked with my dad at the Waipahu Sugar Plantation. He received a degree in engineering at the University of Chicago. He came from the same village of Kin in northern Okinawa as my family. He became useful to our military government and was later appointed chief executive of the Ryukyu Government. After the war he became the owner of the electrical monopoly in central Okinawa and was one of the most powerful and wealthy citizens in post-war Okinawa. Seiho and I had much to talk about
.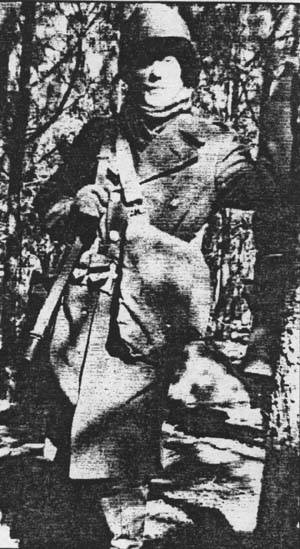 Tom Ige, Ft McClellan, 1944
I had the most interesting assignment when a unit of the 6th Marines brought in a dozen homely Korean "comfort women from their hideout in the mountains of Onna Dake. They were placed in a holding station in Kin Village for delousing. In the process, it was necessary to disrobe them to spray the DDT to all parts of the body. As the marines tried to disrobe these women, they began yelling "Rape!" creating quite a commotion.
After my careful explanation, the women were very cooperative and took off each piece of clothing at my command to be sprayed. "Now spread your legs," I would order and a woman would be sprayed amidst the loud laughter of the other women waiting their turn. After a while it became a fun affair for all involved.
The most dangerous and valuable service we provided in Okinawa was to try to get the people who were hiding in the numerous deep caves to surrender. We called on them to surrender peacefully or the caves would be dynamited. We succeeded on numerous occasions. We suspected that Japanese soldiers who were in with the civilians prevented more to surrender. Sergeant Kobashigawa of our team tried to evacuate a big cave in central Okinawa, but he came back to camp that night in tears. He failed to get the Japanese out and the cave was sealed. He still had many relatives living in Okinawa and he imagined them to be buried alive. I was happy to watch frightened civilians meekly walk out of the caves for another lease on life. The war became very personal when civilians were involved.
During a lull, a lieutenant from Wisconsin, four soldiers, and I went in two jeeps to the Village of Kin to visit my relatives. I had lived in that village for six months as a child of eight and attended its elementary school. I ventured to the house of what used to by my mother's house. The Ikeharas, who lived there, were related to my family. Understandably, they were frightened by our full combat uniforms. As I explained who I was, they were most anxious to hear about their relatives in Hawaii. I also learned that my Uncle Unko was killed by the marines a few days before. He worked in Hawaii with my father before World War II. Ironically, he had a son in the U.S. Army whom I had met in an army camp near the Golden Gate Bridge in San Francisco early in 1941. My uncle was returning from the mountains to check on his pigs and goats. He ran into some marines. As neither could speak the other's language, my uncle began to run away. The marines caught up with him hiding inside the enclosure of his family tomb. The family all said that he couldn't have found a more appropriate place to die.
My aunt also passed away the day before I arrived; so, had to pay my respects. Her home had been destroyed and the family was living in the goat pen. In the darkness inside, incense was burning and the scent permeated the surrounding area. I bowed before the makeshift altar with my other aunt and offered my condolences. She was quietly weeping in the dark and repeating, "Oh, if you could have lived a few more days. …your brother's son is here to visit you."
From June through August 1945,I was assigned to the mop-up operations of the 77th Division, which had invaded Zamami and Tokashiki in the Kerama Island chain. Led by a prisoner named Yasuda, I set out with a nine-man patrol to scout the gun emplacements of his former unit in the mountains behind Tokashiki. Enroute, the lead man tripped a land mine wire, setting off a tremendous explosion that knocked me unconscious causing wounds in my chest and leg. The medical evacuation and hospitalization ended my MIS service in the Battle of Okinawa.
(Courtesy of "Secret Valor" by Military Intelligence Service Veterans Club of Hawaii.)