Radio Intelligence in CBI By Ted Tsukiyama, Sgt.

By mid-1943 the Army gave the Nisei higher military service priority in military intelligence service than for infantry combat; so, Military Intelligence Service Language School sent Colonel Kai Rasmussen, Shig Kihara and Tetsuo Imagawa to Camp Shelby to raid the 442nd Combat Team for MISLS prospects. In late August 1943, MISLS depleted the 442nd of about 250 men and shipped them to Camp Savage, Minnesota, where they entered the third Savage class in September 1943, as sections 23 to 41.

After a grueling six-month crash course in "heigo" (military Japanese), this class graduated in February 1944, out of which over 50 men were assigned to radio intelligence and sent to the 4th Army Air Force Radio Squadron at MacDill Field, Florida, for further training in March 1944. After five months of specialized training in radio intelligence, our group of 25 MIS were assigned to the 6th MF Radio Squadron Mobile and shipped out of MacDill Field in early August 1944 to Camp Pinedale, Fresno, California, for further field training in Yosemite National Park.

The 25 MIS Niseis in the 6th AAF Radio Squadron Mobile were led by Staff Sgt.

Sanji Shirai and included Mark Akisada, Teiho Chena, Shoji Fujishima, Thomas Goto, Kats Hashimoto, Chuck Hironaka, Eiji Kamei, H. Minemoto, Kenneth Moriji, Bob Motoyama, Kenneth Murakami, Gilbert Nagata, Frank Sakato, Sachio Shigeta, Goro Shimanuki, Tad Shimoda, Edward "Bull" Sumida, "Slim" Takata, Ralph Toyota, and Ted Tsukiyama.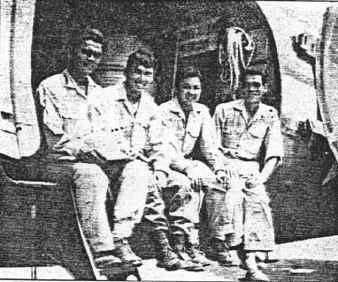 Radio Intercept Section, 6th AAF Radio Squadron Mobile 10th AAF, CBI Theater, September 1944.
L-R: Teiho Chena, Ted Tdukiyama, Tom Goto, and Mark Akisada.
In early September 1944, we boarded a troopship at Wilmington, California, and spent the next 59 days enroute to Bombay, India, via the broad Pacific and the turbulent Antarctic Ocean below Australia. We disembarked at Bombay in late October 1944 and entrained across the breadth of India to Calcutta and then up to Assam, where the 5th AAF RSM set up operations at a place called Chabua, where the Ledo Road starts its tortuous route over to China.
By May 1942, the Japanese had invaded and occupied all of Northern Burma, attacked India at the Imphal border, and had cut off the Burma Road supply line to China. General 'Vinegar Joe" Stilwell headed the Southeast Asia Command (SEAC) joint British, Chinese and American task force with the military mission to counterattack and drive the Japanese out of Burma.
The American units included the 10th Air Force, the 5307 Composite Unit (popularly known as "Merrill's Marauders," succeeded by the "Mars Task Force," and the OSS Detachment 101 ("Kachin Rangers") to which other MIS Nisei were attached. The mission of the 10th Air Force was to provide air support and air supply to General Stillwell's North Burma attack force. We, the 6th AAF RSM, were assigned to the 10th Air Force in the China-Burma-India Theatre.
As the primary mission of the 6th AAF RSM from our mobile station in Chabua, we intercepted Japanese air force air-ground radio communications between fighter planes and tower at Japanese airfields in Northern Burma. Nisei on three-man radio intercept teams, (four hours on, eight hours off, around the clock) monitored Japanese air traffic at six airfields. We recorded all Japanese air-ground radio traffic on old-fasnioned recorder rolls, translated, and sent them in to Air Force G-2 to analyze the Japanese flight activity, number and types of aircraft, as well as message content. Fighter pilots utilized code names like "Shiratori," "Akabane," and 'Takawashi." The towers maintained their own identity, and all conversation was in uncoded voice. The Japanese had no idea they were being monitored! Once we heard the tower shrieking, "Aka! Aka! Aka!" ("Red! red! red!") indicating that their airfield was then being attacked by American planes. All these bits and pieces must have been processed to track the progress of the war against the Japanese in Burma.
After eight months of bitter fighting in the Hukawng-Mogaung Valley sector, on August 3, 1944, the Japanese suffered defeat at Myitkyina and were relentlessly pushed down south. After two month's operations at Chabua, the 5th AAF RSM flew into Myitkyina on January 25,1945, and then to Bhamo on the banks of the Irrawaddy River in March 1945. It continued its radio surveillance of Japanese air activity around Mandalay and other lower Burma airfields for the next six months until September 9,1945, when Japan surrendered after the bombing of Hiroshima and Nagasaki. The 6th AAF RSM had been readied to be flown in to Kunming, China, when peace was declared.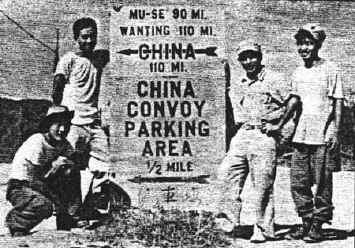 Radio Intercept Section 6th AAF Radio Squadron Mobile 10th AAF, CBI Theater on
Burma Rd, Burma around August 1945. L-R: Edward "Bull" Sumida, Kenneth Moriji,
Shoji Fujishima, and Ted Tsukiyama.
Ours was a routine, dull and unglamorous task, far from the field of battle -- nothing like what the Merrill's Marauders and Kachin Ranger MIS-ers suffered and endured. The most we suffered were dysentery and malaria. But like the rear echelon MIS work at Joint Intelligence Center Pacific ocean Area, Allied Translators and Interpretors Section or South East Asia Translation and Interrogation Center, we each contributed our little share toward the total MIS effort by the Savage/Snelling graduates which hastened the end of the war against Japan by several years, saved thousands of lives, and unquestionably proved we were more than willing "to go fight against our own kind!"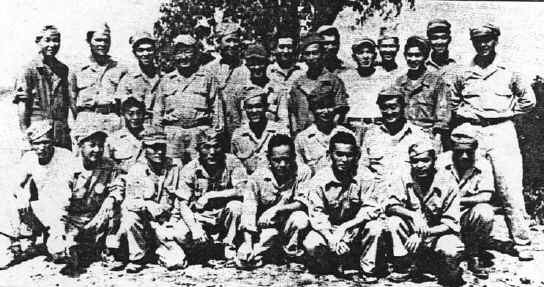 Radio Intercept Section 6th AAF Radio Squadron Mobile 10th AAF, CBI Theater. (Photo taken at Field Hq, on the banks of the Irrawaddy River, Bhamo, Burma). Front Row, L-R: S. Iwahashi, Tommy Goto, Gilbert Nagata, Edward "Bull" Sumida, Harada, Shoji Fujishima, Masa Kanemoto, and K. Ishibashi. Middle Row, L-R: G. Okamoto, Goro Shimanuki, Frank Sakato, and Ralph Toyota. Third Row, L-R: Sanji Shirai, Teiho Chena, Mark Akisada, Bob Motoyama, Chuck Hironaka, Torao Ikeda, Kenneth Moriji, Tad Shimoda, Sachio Shigeta, H. Yamashiro, Herbert Saito, Ted Tsukiyama, and Lt Pietsch.
(Courtesy of "Secret Valor" by Military Intelligence Service Veterans Club of Hawaii.)