Before Commissioning into the U.S. Army

Certificate recognizing membership in Hawaii's Varsity Victory Volunteers.
Action in Burma with the Office of Strategic Services (OSS) during the war.

Partial detail of map carried by LT Buto. Map was 1:1,000,000 scale printed on silk-like material (to preclude deterioration due to elements). Map measures 22" x 30" and has Shanghai area on one side and Nanking area on the other.
This map is currently sewn on one of the panels of the "120,000 Tassel Tapestry" (the quilt) created by the Tecumseh Middle School, Lafayette, Indiana.

LT Buto (2nd from right with hat on) interrogating unidentified Japanese POWs in Burma.

LT Buto (standing to left of cart) with captured Japanese soldiers.
Unknown group photo. LT Buto is standing, 3rd from left.
Post WWII.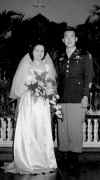 CPT Junichi Buto and his bride, the former Ann Asako Kanemoto: Wedding announcement & photo.