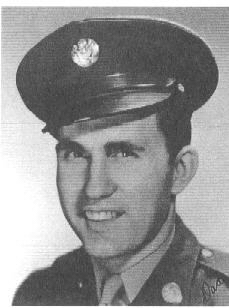 Dempster P. Dirks with ATIS, Brisbane, Australia, 1944
Dirks had lived in Japan in 1936 and had taught high school in the Philippine Islands before World War II, and at the time of his induction into the Army in early 1941, he was teaching at the San Diego Army and Navy Academy in Carlsbad, California. He received basic training in field artillery communications at Fort Sill, Oklahoma, and was further trained in the Japanese language at the Presidio in San Francisco and at Camp Savage, after which he was assigned auditory surveillance duties at the Tracy, California, POW Camp. Later he was one of the first teachers at the Advanced Training Center, Presidio of Monterey, teaching a course in Kanji (Chinese characters used in wrifing Japanese) recognition to eight classes of Filipino officers.
Selected for the Army Air Force Cryptanalysis School at Camp Pine dale, near Fresno, Dirks learned the Japanese Army kana ('etters of the Japanese syllabary) code. His work in the Pacific theater -- he served in the Port Moresby, Biak, Leyte, Okinawa, and le Shima campaigns -- was to break coded messages used by Japanese aircraft and put them into English for use of Air Forces units. Selected for the Camp Columbia Officer Candidate School in Brisbane, Australia, he had almost finished his courses when the school was suddenly closed because of a surfeit of officers caused by the end of operations in the European theater in early 1945. After the war in the Pacific ended, he completed his military service at 5th Air Force Headquarters at Irumagawa, near Tokyo. After his discharge, he worked as a Los Angeles County Resettlement Counselor for Nikkei (Japanese Americans) returning from internment in wartime relocation centers.
Dirks received his BA from Occidental College. He earned an MA in psychology (1950) and a PhD in anthropology, communications and sociology (1954), both from the University of Southern California. While enrolled in college, he played in a dance band, sang on radio in a men's quartet, and played theater organs at movie houses in Glendale.
Dirks retired in 1985 as Professor Emeritus, PhD in the Divisions of Behavioral and Social Sciences, after having taught 33 years at El Camino College, California State University at Long Beach, and at the University of Southern California. He is the author of Social Norms Among Minority Adolescents (1950) and Socio-cultural History of the Remote City of La Paz, Baja, Mexico (1954). He has produced numerous episodes and shows for radio and television in Los Angeles. His hobbies are playing theater organ, photography, and traveling.