Gila River Relocation Center, Arizona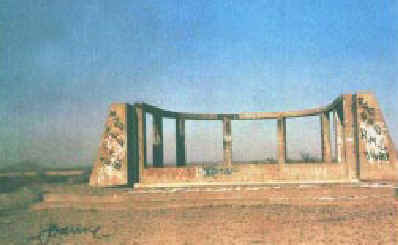 Remains of Gila River Honor Roll Monument - Butte Camp
Life at Gila River appeared to be the most relaxed of all the camps. Only one watchtower was erected and the barbed-wire fences were removed early on. The camp's administrators were sympathetic to the evacuees plight and were lenient in giving them access to Phoenix and recreational activities in the surrounding desert.
The camp was located on the Gila River Indian Reservation about 50 miles southeast of Phoenix, near the town of Rivers. The 16,500-acre site actually consisted of two separate camps, with the larger of the two, Butte Camp, located 3-1/2 miles west of Canal Camp. The Sacaton Mountains rise three miles to the south and the Superstition Mountains are visible in the distance. The average summer temperature is 104 degrees and has been known to reach 125 degrees.
Despite the Gila River Indian Tribe's objections, the site was approved, and construction began on May 1, 1942. The camp officially opened on July 20, 1942, and evacuees streamed in from the Sacramento Delta area, Fresno County and the Los Angeles area. (Another 2,000 came from the Jerome Relocation Center in Arkansas after its closing in June 1944). By December 1942, Gila River had a peak population of 13,348 and was Arizona's fourth largest city. Canal Camp closed on September 28, 1945, and Butte Camp closed on November 10, 1945.
Because Gila River was considered a showplace compared with the other camps, Eleanor Roosevelt made a surprise visit to the camp in 1943 to look into charges that the Japanese Americans there were given special treatment. Her observations were published in Collier's Magazine on October 10, 1943. In it, she described the camp's austere living conditions and commented:
I can well understand the bitterness of people who have lost loved ones at the hands of the Japanese military authorities, and we know that the totalitarian philosophy, whether it is in Nazi Germany or Fascist Italy or in Japan, is one of cruelty and brutality…. These understandable feelings are aggravated by the old time economic fear on the West Coast and the unreasoning racial feeling which certain people, through ignorance, have always had wherever they came in contact with people who are different from themselves.

To undo a mistake is always harder than not to create one originally but we seldom have the foresight. Therefore we have no choice but to try to correct our past mistakes and I hope that the recommendations of the staff of the War Relocation Authority, who have come to know individually most of the Japanese Americans in these various camps, will be accepted.

…A Japanese American may be no more Japanese than a German-American is German, or an Italian-American is Italian, or of any other national background. All of these people, including the Japanese Americans, have men who are fighting today for the preservation of the democratic way of life and the ideas around which our nation was built.

We have no common race in this country, but we have an ideal to which all of us are loyal: we cannot progress if we look down upon any group of people amongst us because of race or religion. Every citizen in this country has a right to our basic freedoms, to justice and to equality of opportunity. We retain the right to lead our individual lives as we please, but we can only do so if we grant to others the freedoms that we wish for ourselves.
The barracks at Gila River were, in fact, somewhat distinctive. The buildings were constructed of wood frame and white beaverboard and they had a special double-roof design with red, fireproof shingles on top that provided effective protection from the heat. Evaporative coolers in each building also helped make the temperatures bearable. Canal Camp had 404 buildings, with 44 for administrative purposes, 232 barracks for living quarters, 16 mess halls, 17 ironing rooms, 17 laundry rooms, 34 latrine and shower buildings, 24 school buildings and 20 community service buildings. Residential sections were divided into blocks of 14 barracks. Each barrack was 20 by 100 square feet and divided into four single-family apartments.

Butte Camp had 821 buildings, including 22 administration offices, warehouses, and staff housing. There was a post office, garages, mimeograph buildings, warehouses, police office, court, water filtration plant, refrigerated warehouse, laundry, gas station and various other staff buildings, most of which were built by the evacuees. Butte Camp had 627 residential barracks of which 46 were used for the schools, 6 for churches, and 29 for other services, including a shoe repair shop, sewing shop, laundry and dry cleaning, barber shop, beauty shop, canteen, store, and a kitchen.

But the camp was plagued with problems early on because the original plan called for a maximum population of 10,000 and the peak population of more nearly 14,000 was reached before construction was finished. People were crowded into barracks and some had to temporarily stay in mess halls, recreation halls and even latrines. Families living in the cramped rooms hung blankets for doors and walls. There were chronic water shortages, and the use of evaporative coolers was curtailed for a period. The unrelenting heat, rattlesnakes and scorpions added to their discomfort.

Life within the camp eventually settled down as the internees organized the internal running of the camps, with one resident in each block serving as block manager. The internees ran the mess halls and other services. A community-owned store was operated by the residents' cooperative. The Butte Camp Hospital, which served both camps, was run by an administration doctor and staffed by Japanese-American doctors, nurses and nurses'aides. Internees manned the police and fire departments as well.

A council of block representatives governed the camp. The council acted as an advisory group to the project director, focusing on the general welfare of the community. A commission of internees was also appointed to draw up a constitution for the permanent councils, which was submitted to the director for approval.

Cultural, civic and religious activities flourished with in the camp. Recreation buildings and barracks were used for churches, meeting rooms, libraries, and other community services. There was an active Japanese American Citizens League, as well as Boy Scouts, American Legion and other groups. Both Buddhist and Christian congregations held church services. Internees could also maintain relationships with people on the outside and were able to obtain passes for visitors to enter the camp.

Vacant blocks were used for basketball courts, football fields, playgrounds, sumo arena and other facilities, which were leveled and built by the internees themselves. Butte Camp was known to have had the WRA's finest baseball diamond. Designed by professional baseball player Kenichi Zenimura, it had dugouts, bleachers and could seat up to 6,000 spectators. The residents also built an outdoor theater from scrap lumber for entertainment such as talent shows, plays, and movies. The evacuees landscaped elaborate gardens and planted trees to add an aesthetic sense to their daily life. They also built numerous ponds in interesting shapes near or under barracks that helped cool the structures.

The schools enrolled several thousand students from kindergarten through high school. One entire block housed an elementary school and another was used for the high school. The internees built an auditorium and additional classroom buildings for science, home economics, and vocational studies. Students and teachers alike had to make do with a lack of materials, but they were resourceful in creating ways around the shortages. The typing class had only two typewriters, so students practiced on cardboard diagrams of an actual keyboard. Desks and chairs were made by students in the vocational school, and painted walls served as blackboards. Most of the teachers were Japanese American, many with college degrees and some with teaching experience. The State of Arizona accredited the schools in both camps, and 97 seniors graduated from Canal High School in 1944. In addition, a variety of adult classes were held during the day and in the evening under the direction of an adult education department.

Because of food rationing the War Relocation Authority wanted the camps to grow their own food. Agriculture was a priority at Gila River, and the naturally fertile soil and warm climate provided ideal farming conditions. By August 1942, vegetable farms were growing acres of beets, carrots, and celery and other vegetables. One of the earliest crops was daikon, the long, white radish widely used by the Japanese. Gila River would eventually produce 10 acres of daikon that was shipped to all the other camps.

During the peak harvest season, from 1943 to 1944, nearly 1,000 internees worked in the farmland around Canal Camp growing vegetables and raising livestock. In the first nine months of operation, 84 train carloads of food were shipped to other relocation camps. In all, 20 percent of the food consumed at the other camps came from Gila River. Evacuees also produced 150 acres of flax, cotton, and castor beans as war crops.

The WRA also decided that livestock should be part of the agricultural program at Gila River, and internees began raising cows, hogs and chickens in May 1943. Although the task of raising the chickens was especially challenging because of the extreme daytime heat, workers successfully used double-roofed structures to keep the chicken houses cool and ventilated. By the end of the year there were 1,377 cattle, 1,106 hogs, and 8,584 chickens, with 60 hogs and 60 cattle butchered for the mess hall kitchens each week.

Other industries contributed to the wartime effort. At Butte Camp a camouflage net factory was briefly in operation and employed 500 evacuees. A model ship building shop at Canal Camp provided models for use in military training

Ninety percent of the population at Gila River answered the loyalty questionnaire positively, and many internees were allowed to leave the camps. Others were eligible for the draft beginning in February 1943, and 487 men from Gila River enlisted in the U.S. Army. Twenty-three soldiers were killed in action, and a memorial was later placed on knoll overlooking Butte camp. The memorial had a reflecting pool and concrete benches and an honor roll that listed the names of each soldier from Gila River who were killed in World War II. Part of the original memorial is now gone, but in 1995, two markers were placed on the site, as well as another memorial marker in Canal Camp.

Rebuilding their lives on the outside was a difficult prospect because many who had been interned were not sure where to go. Some families were able to relocate to the Midwest or the East Coast; the rest remained in Arizona or returned to the West Coast. By the fall of 1945, the last to leave were 155 Hawaiian Japanese. In December most of the buildings were moved to other institutions in Arizona, although many of the internees chose to stay in the camps until the war ended and restrictions were lifted in January 1945.

Americans of Japanese Ancestry Who Died in World War II


(Enlisted from Gila River)
| | | | | | | | | |
| --- | --- | --- | --- | --- | --- | --- | --- | --- |
| Unit | First Name | Last Name | Rank | Hometown | Date Died | Battles | Grave | Camp |
| 1.100-C | Masashi | ARAKI | Pfc | Selma, CA | 02-Jun-44 | Anzio to Rome | US | Gila River |
| 6.MIS | Russell T. | FUJINO | T/Sgt | San Francisco, CA | 4-Aug-45 | | Golden Gate | Gila River |
| 1.100-A | Tatsumi | FURUKAWA | Pvt | Concord, CA | 20-Oct-44 | Battle of Bruyeres | Golden Gate | Gila River |
| 3.442-L | John T. | HASHIMOTO | Sgt | Fresno, CA | 14-Nov-44 | Vosges Mtn -St. Die | Seattle, WA | Gila River |
| 2.442-E | Yeiichi | HIYAMA | Pvt | Fowler, CA | 23-Apr-45 | Po Valley Campaign | | Gila River |
| 2.442-G | Minoru | ISHIDA | Pfc | San Marino, CA | 23-Apr-45 | Po Valley Campaign | Evergreen, LA | Gila River |
| 1.100-A | James J. | KANADA | Pvt | Concord, CA | 05-Apr-45 | Po Valley Campaign | Golden Gate | Gila River |
| 2.442-F | Shaw | KOJAKU | Pfc | Gardena, CA | 17-Jul-44 | Rome-Arno | Evergreen, LA | Gila River |
| 2.442-E | Nobuo | KOMOTO | Pfc | Selma, CA | 17-Oct-44 | Battle of Bruyeres | | Gila River |
| 2.442-E | Henry M. | KONDO | Pfc | Pasadena, CA | 19-Oct-44 | Battle of Bruyeres | | Gila River |
| 6.MIS | Satoshi B. | KUROKAWA | T/4 | Guadalupe, CA | 13-Aug-45 | Plane Crash, Okinawa | | Gila River |
| 2.442-F | Kazuo | MASUDA | S/Sgt | Santa Ana, CA | 27-Aug-44 | Rome-Arno | | Gila River |
| 2.442-E | George H. | MASUMOTO | Pfc | Selma, CA | 16-Oct-44 | Battle of Bruyeres | | Gila River |
| 1.100-C | Takanori A. | NISHI | Pfc | San Francisco, CA | 15-Jul-44 | Rome-Arno | Golden Gate | Gila River |
| 4.442-Can | George | OTA | Pvt | Parlier, CA | 15-Aug-44 | Rome-Arno | | Gila River |
| 2.442-G | Kazuo | OTANI | S/Sgt | Visalia, CA | 15-Jul-44 | Rome-Arno | | Gila River |
| 2.442-G | Todd T. | SAKOHIRA | Pfc | Fowler, CA | 04-Jul-44 | Rome-Arno | | Gila River |
| 6.MIS | George M. | SHIKATA | T/3 | Los Angeles, CA | 21-Jul-46 | Died Non-Battle | | Gila River |
| 1.100-C | Katsumi L. | TAKASUGI | T/Sgt | Ventura, CA | 05-Apr-45 | Po Valley Campaign | US | Gila River |
| 4. 442-? | Masuo | WAKITA | Pfc | Santa Ana, CA | 23-Aug-45 | Died Non-Battle | | Gila River |
| 3.442-L | Mitsuru T. | YETO | Pvt | Oxnard, CA | 19-Apr-45 | Po Valley Campaign | Evergreen, LA | Gila River |
| 7.Army | Makoto | YOSHIHARA | Pvt | Guadalupe, CA | 22-Dec-44 | Died Non-Battle | | Gila River |
Sources
Anonymous, "Evacuees Operate Factory Vegetable Farm at Rivers." Originally appeared in The Phoenix Republic newspaper, 1942. Reprinted in This is Your America. New York: Literary Classics, 1943.
Burton, Jeffery F.; Farrell, Mary M.; Lord, Florence B.; Lord, Richard W. Confinement and Ethnicity: An Overview of World War II Japanese American Relocation Sites, Western Archeological and Conservation Center, National Park Service, Publications in Anthropology 74, 1999.
Goerke-Shrode, Sabine. "Basics, few comforts for internees: Japanese-Americans grew food in the heat." The Reporter, Vacaville, CA, October 14, 2001
Niiya, Brian, ed., Japanese American History: An A-to-Z Reference from 1868 to the Present. New York: Facts on File, 1993.
Reprinted with permission from "Echoes of Silence: The Untold Stories of the Nisei Soldiers Who Served in WWII" with thanks to the AJA WWII Memorial Alliance educational project who produced the CD.