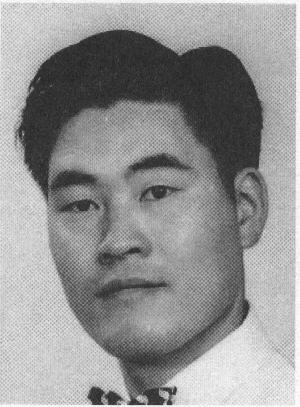 James Yukio Tanabe
Topaz (Utah) Relocation Center High School, January 1943
Tanabe, a third generation Japanese American and second generation veteran, was born in 1925 in Marysville, and aftended public schools in that northern California farming community. His grandparents, from Hokkaido and Hiroshima, first settled in Hawaii, and then moved on to farm in California. His father, Yoshijiro, a veteran who served with the American Expeditionary Force in France during World War 1, and his wife, the former Sachiko Asano, were to raise a family of six sons and three daughters. The Tanabe rice farm was a large scale enterprise, encompassing some 10,000 acres of leased land by the time of the evacuation in 1942. When the famfly returned after the war to reclaim their lease rights, they found that the farm had been auctioned off and lost irretrievably because of the failure of the legal custodian to remit annual taxes of $1.00 per acre.
In July 1942, the entire Tanabe family -- except for brothers Tom and Sam who had been drafted -- was evacuated to the Tule Lake Relocation Center. (Tom saw action with the 442nd Regimental Combat Team in Europe. Sam was killed in action serving with the 100th Infantry Battalion.) The family was then moved to the Topaz Relocation Center in Utah, from which brother Harry was drafted into the service. Harry was to serve with counterintelligence duties in the Pacific. Tanabe himself was also drafted in April1943. Sent to Camp Shelby, Mississippi, for basic training and destined for combat duty with the 442nd, he was recruited instead as a candidate for intelligence duties in the Pacific. Tanabe had learned his Japanese mostly from his grandfather and father, with formal instruction limited to two years at the local Japanese language school, but his command of the language was sufficient to pass muster with the recruiting officer
After basic, he reported to the Counter Intelligence School in Havre de Grace, Maryland, and after completing training, was sent to the Army Electronic Communications School, Fort Monmouth, New Jersey, for training with top secret electronic equipment. Upon graduation, he received top secret clearance and was commissioned as a warrant officer, WO1. In October 1943, he was shipped out to the Pacific theater and served in combat with Australian and U.S. Marine Corps units as recounted in his presentation. At war's end, he served in the Occupation, assigned to Sugamo Prison as custodian of General Hideki Tojo and others arrested as war criminals.
Tanabe's decorations include the Purple Heart, the Combat Infantry Badge, and the Bronze Star.
Discharged from the Army in October1947, he joined his family in Ann Arbor where his parents had settled. His father was employed by the University of Michigan. He earned his BS in electrical engineering from Case Technical College (now Western Reserve University) in Cleveland. He was employed by the Bendix Corporation and by the NASA Goddard Space Center as an electrical engineer, retiring in 1991. Married with two sons (Martin, who volunteered for four years of Navy service and Daniel, a graduate of West Point), a daughter; and one grandson, Tanabe has been active in veterans organizations. He is a member of the Japanese American Veterans Association; a life member of the Veterans of Foreign Wars, Post 9879, San Francisco; a life member of American Legion Post no.60, Laurel, Maryland, which he served as post commander in 1985; a life member of the American Legion honor society, 40/8 locale #265 of Maryland, serving as chef-de-gare in 1990; and advisor to the Sons of the American legion as well as a staff member of the legion's Maryland Boys State program.