The Po Valley Campaign

This article was compiled with excerpts taken from "GO FOR

BROKE" by Chester Tanaka (442-K)

The 100th and the 442d closed into the Peninsula Base Section Staging Area at Pisa on 5 March 1945 and were assigned to the 5th Army, attached to the IV Corps, and under the operational control of the 92d Infantry Division. The arrival of the 100/442 was kept a closely guarded secret from the Germans. Gen. Mark Clark had ordered the return of the Combat Team for a critical mission - spearhead a diversionary assault on the western sector of the Gothic Line.

For nine months, Field Marshall Kesselring directed the construction of fortifications in the rugged mountains of the Apennines. They were built under the direction of the infamous, slave-labor Todt organization. Approximately 15,000 Italians were forced to dig or blast anti-tank ditches, gun emplacements, machine-gun nests, rifle pits, and trenches. The Germans were entrenched in positions drilled out of solid rock and reinforced with concrete. A string of these rock fortifications ran from the coastal area to the mountains of Carchio and Altissimo and beyond. These fortress-like machine gun nests - 2,376 along the entire Gothic Line – produced interlocking fire; other OP's (observation posts) commanded an unparalleled view of the valleys. Cut into the mountaintops, they were a double-barreled threat that dominated the terrain for miles.

During the months prior to the arrival of the 100/442, Allied planes had bombed the positions, strafed them and zeroed-in artillery fire - to no avail. The Germans were basking in an impregnable stronghold. The hill mass, west to east, was known as Georgia, Florida, Ohio 1, 2 and 3, Mount Cerreta, Mount Folgorita, Mount Carchio, and Mount Altissimo. Mount Altissimo, over 3,000 feet tall, towered over the other mountains. It had an OP carved into solid rock at its military crest, which was able to spot practically everything that moved in the valley below. Even the sighting of a single GI would draw a round of mortar fire.

This photo, taken one month before the 100/442 attack, was handmarked by Army Intelligence to indicate Florida and Georgia hills. Redoubts in the hills had been fortified and strengthened by the enemy for six months. The 100/442 overran them in 32 minutes.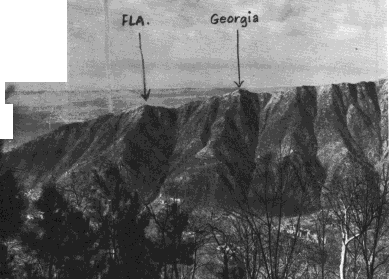 How to Attack a Mountain Fortress. After much consultation, the Regimental Commander, Col Virgil R. Miller, and 3d Battalion Commander, Lt Col Alfred A. Pursall

narrowed their attack plans to three sets of alternatives: (1) frontal or pincers; (2) daylight or night; and (3) conventional or surprise. The combination of frontal, daylight, conventional attack had been tried before with no success. It was decided to try a pincers attack at dawn with the surprise element of an all-night climb to get in position for the dawn assault. This plan would require the climbing of a sheer 3,000 foot mountain face in the dark with full fighting gear. It would have to be done in absolute silence without voice or radio communication to maintain the element of surprise.

On 3 April, the 100th Battalion moved into a forward assembly area in the vicinity of Vallechio and remained in concealment. That same night, the 3d Battalion detrucked at Pietrasanta and climbed eight tortuous miles in the dark, up mountain trails to Azzano, a mountain village that was under enemy observation during the daylight hours. The unit also remained under cover until the next night. It then moved out to descend into the valley and then moved on to scale the 3,000-foot saddle between Mount Cerreta and Mount Folgorita. To prepare for the night climb, the men smudged their hands and faces with soot and dirt, taped their dogtags (metal identification plates) to keep them from rattling, and placed a complete ban on lights, radio and just plain talking. On the night of 4 April, companies I, L and M of the 3d Battalion moved down the steep valley facing Azzano and up to the saddle.

It was an eight-hour climb up an almost vertical, shale-covered mountainside. It was grasping in the dark for a few, shallow-rooted shrubs, or your buddy's rifle butt, or his boot. When several of the men fell with full field packs, rifle and ammo, there was no crying out in spite of injuries. The men made it to the top. They did not

break the silence. That same night, still maintaining absolute silence, the 100th went into line on Florida Hill, relieving elements of the 371st Infantry. The 100th was now poised for the attack against Georgia and Ohio 1, 2 and 3. The Anti-Tank Company was split up for special duty as carrying parties and litter bearers. One platoon was assigned to the 100th, one platoon to the 2d Battalion, and two platoons to the 3d Battalion.

At dawn 0500, 5 April 1945, the men were in position; the pincers were set for the surprise attack against the enemy. The 100th attacked frontally against Georgia after a tremendous barrage of artillery fire from the joined batteries of the 599th and 229th Artillery Battalions, the 442d Regimental Cannon Company, Company B of the 895th Tank Destroyer Battalion, Company B of the 84th Chemical Battalion (4.2 mortars), and the Assault Gun Platoon of the 758th Tank Battalion. After the first several hundred yards of advance eight mines blew up. Entrenched machine-guns opened fire and grenades rained down on the men of the 100th. The drive faltered. PFC Henry Y.

Arao (later S/Sgt) of A Company gave first aid to his wounded squad leader reorganized the squad and led them forward against the machine-gun nest. He went on alone, crawling through a thick minefield, and tossed a grenade into the nest. Then he machine-gunned the first gunner and took the second gunner prisoner. When another machine gun opened up, PFC Arao again advanced alone, threw another grenade, killed the gunners and sent the support enemy infantry scurrying in retreat. This heroic feat earned PFC Henry Y. Arao the Distinguished Service Cross. In the same battle, PFC Sadao S. Munemori, an assistant squad leader of A Company, took charge when his squad leader was wounded. PFC Munemori made frontal, one-man attack on two machine-gun nests and knocked both out with hand grenades. With drawing under murderous fire and a shower of enemy grenades he had nearly reached the safety of a shell hole when an unexploded grenade bounced off his helmet and tumble toward two of his comrades. Rising up amidst the withering small arms fire, he dove on top of the live grenade and smothered the blast with his body. He was killed but his comrades were spared. PFC Sadao S. Munemoi was awarded the Congressional Medal of Honor for this heroic action beyond the call of duty.

By 0532, the men of the 100th had secured the military crest of Georgia Hill. The pincers were working; the surprise attack had succeeded. In 32 minutes, the 100/442 had smashed a redoubt that had withstood Allied assaults for over five months. This did not

mean the enemy was totally defeated; many strong-points yet remained. Artillery and mortar fire continued to fall on Ohio 1, 2 and 3 as the 100th pressed on. The enemy counterattacked that night, but the 100th held. On the right flank, the 3d Battalion jumped off from the top of the saddle after their all-night climb. This time, the enemy was caught completely by surprise. By 0600, the attack was in full force. L Company moved south along the saddle ridge toward Mount Folgorita while I Company dispatched one platoon north along a spur toward Mount Carchio.

The Germans called on their coastal and railroad guns at Punta Bianca, La Spezia, for assistance, but L Company in an act of sheer, raw courage determinedly moved through the artillery and mortar fire and took on the defenders in hand-to-hand combat. They killed six of the enemy, captured four, and sent the rest fleeing down the west side of Mount Folgorita. K Company and a mortar platoon of M Company left Azzano

and tried to climb Mount Folgorita in day light. Enemy observers on Mount Altissimo called down accurate mortar fire, killing 17, and wounding 83. At the end of the day, the Germans suffered 30 dead, 5 wounded or captured, 12 bunkers destroyed and the loss of 17 machine guns and 3 '75mm' mountain howitzers, as well as several tons of ammunition and supplies. In this one day of battle, the Gothic Line was cracked. This crack would soon widen into a full-size fracture. The next day, 6 April, the pincers closed even tighter. The ridge-line from Florida to Folgorita had been taken. F Company was pulled off to assist I Company in mopping up elements of enemy resistance on Mount Carchio. Ohio 1, 2 and 3 was still being stubbornly held by the Germans but was reduced by the end of the day through a classic cooperation of fire from air, artillery, and infantry. The last ridge link, Mount Cerreta, finally fell to a determined assault by L Company of the 3d Battalion. L Company lost 2 men killed and 11 men wounded in this action; the enemy, 20 men killed and 11 men captured.

Listed here are names of KIAs who died in the PO Valley Campaign:

Name, First Name, Rank, Unit, Hometown, Date of Death

Asakawa* Jack Pvt 442-Md 04-Apr-45

Hada* Victor K. Pfc 442-K Denver, Co. 05-Apr-45

Hosoda* Earl Pvt 100-A Emmett, Id. 05-Apr-45

Ishida* Haruo Tec4 442-G Seattle, Wa. 05-Apr-45

Kanada* James J. Pvt 100-A Concord, Ca. 05-Apr-45

Maehara* Saburo 1stLt 100-C Puuene, Hi. 05-Apr-45

Miyamoto* Thomas T. Pfc 100-C Waniha, Hi. 05-Apr-45

Moriguchi* Haluto Pfc 100-C SanFrancisco, 05-Apr-45

Munemori* Sadao "Spud" Pfc 100-A Glendale, Ca 05-Apr-45

Nakamura* John M. Pfc 442-K Flint, MI 05-Apr-45

Nakasaki* Robert K. Sgt 100-A Los Angeles, Ca. 05-Apr-45

Nishimoto* Tom T. Pvt 442-L El Centro, Ca. 05-Apr-45

Ota* Roy Pvt 100-C Sacramento, Ca. 05-Apr-45

Sagimori* Tamemasa T. T/Sgt 442-L Berkley, Ca. 05-Apr-45

Sekimura* Koichi K. Pfc 100-C Hilo, Hi. 05-Apr-45

Takao* Thomas T. Sgt 100-C SanFrancisco, C 05-Apr-45

Takasugi* Katsumi L. T/Sgt 100-C Ventura, Ca. 05-Apr-45

Takehara* Shoichi J. Pvt 100-C Fife, Wa. 05-Apr-45

Tanaka* Harley Pfc 442-M Mitchell, Ne. 05-Apr-45

Teshima* Michio Pvt 100-C Riverside, Ca. 05-Apr-45

Yonamine* Hideo S/Sgt 442-F Lahaina, Hi. 05-Apr-45

Inoue* Minoru Pfc 100-B Honolulu, Hi. 06-Apr-45

Kirito* Toshio Pfc 442-F Pahala, Hi. 06-Apr-45

Miyamoto* James H. Sgt 442-K Pepeekeo, Hi. 06-Apr-45

Nagano* Hiroshi F. Pvt 100-B Pingree, Id. 06-Apr-45

Nakagawa* Hirao Pfc 100-B Makaweli, Hi 06-Apr-45

Nakama* Shigenori Pfc 100-B Waimea, Hi. 06-Apr-45

Ninomiya* Takao T. Pfc 100-B Fowler, Ca. 06-Apr-45

Okuma* Seiei Pvt 442-G Kekaha, Hi. 06-Apr-45

Sueoka* Sadamu R. Sgt 100-C 06-Apr-45

Teramoto* Shizuo Pfc 100-B Pepeekeo, Hi. 06-Apr-45

Yoshizaki* Tatsuo Pfc 100-C Norwalk, Ca. 06-Apr-45

Endo* Hiroo H. Pfc 442-G Downey, CA 08-Apr-45

Imamoto* William I. Tec4 442-Md Seattle, Wa. 08-Apr-45

Kawamoto* Sadao Pvt 442-E Lahaina, Hi. 08-Apr-45

Kishi* Robert T. Cpl 442-G Stockton. Ca. 08-Apr-45

Nilges* Edward J. Capt 442Hq3 08-Apr-45

Sumida* Michiru Pfc 100-C Marina, Ca. 08-Apr-45

Teramae* Ted A. Sgt 442-H Onomea, Hi. 08-Apr-45

Yoshimura* Jacob Y. Pfc 442-G Hilo, Hi. 08-Apr-45

Hamada* Tetsuo Pfc 442-Can Puunene, Hi. 09-Apr-45

Kawamoto* Haruo Pvt 442-F Fresno, Ca. 09-Apr-45

Haji* Tom S. Pfc 442-F Spokane, Wa. 10-Apr-45

Kanda* Frank T. Pvt 442-M Los Angeles, Ca. 10-Apr-45

Takahashi* Manzo (Mon) Pfc 442-I Spokane, Wa. 10-Apr-45

Furukawa* Satoshi Pvt 100-B Waikapu, Hi. 13-Apr-45

Inatsu* Masami Pfc 100-B Seattle, Wa. 13-Apr-45

Fukushima* Katsumi Pfc 442-G Hilo, Hi. 14-Apr-45

Furushiro* Henry T. Pfc 100-B Caldwell, Id. 14-Apr-45

Iwamasa* Yoshio Pfc 442-I Niulii, Hi. 14-Apr-45

Miyoko* Noboru Pfc 100-B Los Angeles, Ca. 14-Apr-45

Morihiro* Roy T. Pfc 442-G Cleveland, Oh. 14-Apr-45

Naemura* Roy I. Pvt 100-B Walla Walla, Wa. 14-Apr-45